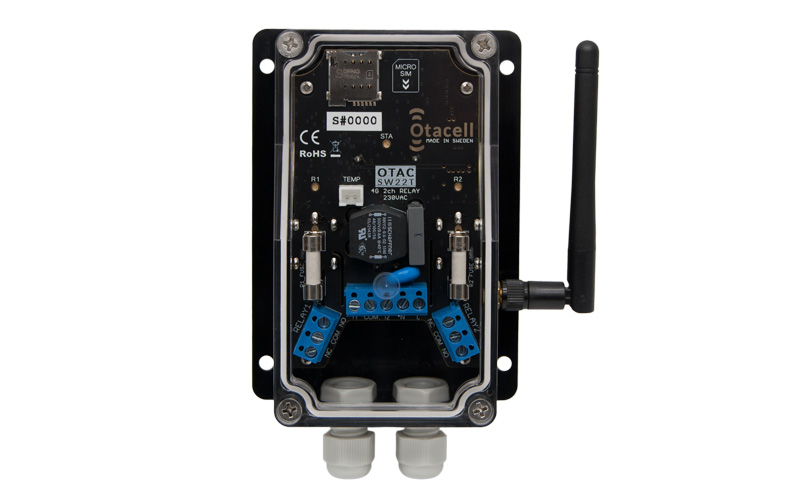 Technical specifications

Operating voltage
DC version: 12/24VDC – AC version: 110-230VAC
Power consumption
Nominal Idle ~250mW / Max 5W
Outputs
2x N.O. / N.C. relays, max 5A per relay
Inputs
2x N.O. / N.C. inputs
Dimensions
90 x 40 x 122 mm
Operating temperature
-40°C to +80°C
Measurable temperature
-40°C to +105°C
Temperature precision
± 1°C
IP-rating
IP67 (can be installed outside)
SIM-card type
Micro-SIM
Mobile network
4G (LTE)
Band
LTE-FDD B1,B3,B5,B7,B8,B20
Modulation
QPSK, 16QAM
Power class
Class 3
4G-relay with mobile app
Remote controlled 4G-relay with 2 inputs and 2 outputs
The latest generation of our very reliable SMS / APP controlled universal relay that we have been selling for 10 years
OTAC-SW22T 4G-relay enables you to reliably control your electrical appliances from anywhere in the world using a landline phone or mobile phone. It can be connected to almost any electrical device and lets you turn them on or off by using phone calls, SMS or our iPhone and Android app. It also has two inputs that can be connected to for example a motion detector so if there is any movement detected you will receive an SMS or the inputs can be configured to control the relays.
The unit is developed and manufactured in Sweden* and rigorously tested & well proven. We use only high quality components from authorized distributors. We offer a 2-year guarantee on all of our products!
● The unit uses 4G (LTE) mobile network and will not be affected by 2G (GSM) sunset.
● Highly reliable, easy to setup and user friendly.
● Two built in 5A relays that can be configured to be latched or momentary activated.
● The two inputs can be used to send SMS or to control the relays in different configurations.
● Rename, enable or disable the inputs and outputs from the units reply SMS.
● Temperature functions for monitoring, alarms and thermostat-control the relays.
● Easy IOS and Android app available, "GSMS Remote Control" in Appstore and Google Play.
● Control and setup the unit directly in the mobile app. No programming skills required.
● Low power consumption, nominally ~250mW and good signal coverage.
● IP67 enclosure, suitable for outdoor use or industrial environments.
● Wide application; open and close gates, control pumps, monitor industrial equipment etc.
● Supports EU LTE bands and will work in whole Europe!
● And much more!
The only thing more you need is a SIM-card, read more about it HERE.
*PCB (bare board) and enclosure made in China. Pick-and-placed, assembled and tested in Sweden.