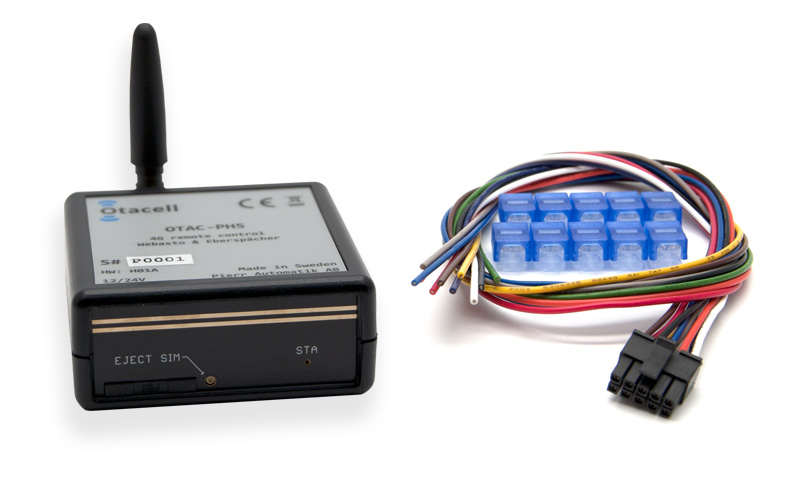 This universal kit is primarily intended for retrofitted heaters. The unit does not support CAN bus and is not suitable for factory-fitted heaters (the heater is controlled via the car's dashboard) but if you have an existing remote control it can still work though. It also has limited support for airheaters and usually cannot control these by itself without an existing compatible controller. Contact us if you are unsure!
---
Technical specifications

Operating voltage
12V / 24V
Power consumption
Nominal Idle ~250mW / Max 5W
Heattime
10 – 999 minutes (default 30min)
Dimensions
65 x 28 x 80 mm
Operating temperature
-40°C to +80°C
Measurable temperature
-40°C to +105°C
Temperature precision
± 1°C
IP-rating
IP20 (install inside vehicle cabin)
SIM-card type
Mini-SIM
Mobile network
4G (LTE)
Band
LTE-FDD B1,B3,B5,B7,B8,B20
Modulation
QPSK, 16QAM
Power class
Class 3
Webasto & Eberspacher Universal
Remote control for Webasto and Eberspacher heaters using mobile app
This is the fifth generation of our popular APP / SMS remote control for Webasto and Eberspächer heaters
With the OTAC-PH5, you can remotely control your vehicle preheater or airheater via SMS, phone calls or our simple iPhone and Android app. Works together with waterheaters and airheaters that are started with analog control signal (+12/24V) or W-bus. The potential-free outputs can also replace e.g. an already existing pushbutton. You can also connect a temperature sensor (sold separately) so you can see what temperature it is.
The unit is developed and manufactured in Sweden* and rigorously tested & well proven. We use only high quality components from authorized distributors. We offer a 2-year guarantee on all of our products!
● The unit uses 4G (LTE) mobile network and will not be affected by 2G (GSM) sunset.
● Works like Eberspächer EasyStart Web and Webasto ThermoConnect but with SMS.
● Can be used with a pre-paid SIM-cards; no subscriptions or ongoing costs except balance.
● Control and set up the device directly in the app. No complicated commands or coding required.
● Simple Iphone and Android app available, "GSMS Remote Control" in Appstore and Google Play.
● For both 12V and 24V systems, also works with heaters in trucks and construction machines.
● Add a start/stop pushbutton with indicator to manually control the heater without your phone.
● Turn on the heat in recreational vehicles in advance, be it the caravan, motorhome or boat.
● Also works with Webasto's and Eberspächer's own apps; "Thermo Call" / "EasyStart GSM".
● Schedule start; select one time and date in the future when you want the heater to start.
● Two potential-free outputs and W-bus support means that the unit works together with most heaters.
● Low power consumption and good coverage with its external antenna.
The only thing more you need is a SIM-card, read more about it HERE.
*PCB (bare board) and enclosure made in China. Pick-and-placed, assembled and tested in Sweden.
otacell.se is not affiliated with Webasto or Eberspächer in any way.